BEELINE ZX
An automated liquid handling system with a range of options and features making it especially suitable for the Clinical and Pharmaceutical Laboratories as well as for OEM applications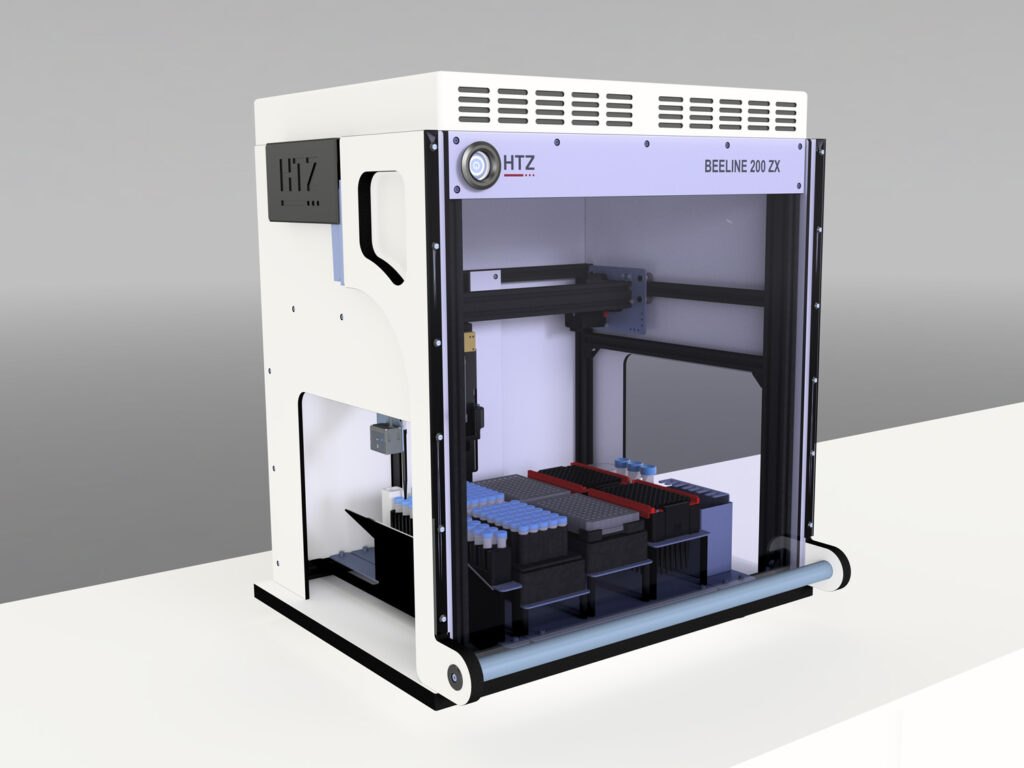 BEELINE ZX – Features
The Beeline ZX is an automated liquid handler designed primarily for pipetting samples with maximum precision, accuracy and security. It comprises an XYZ mechanism to move one or more independently driven pipetting probes around the deck of the instrument to perform tasks such as sample pipetting, sample dilution and reagent addition. It is an inherently flexible system designed to perform sample specific pipetting from any source tube or container to any target vessel, all under the control of easy to use software.


Key Beeline ZX features:


Excellent pipetting accuracy and precision throughout a wide volume range (standard range 1µl upwards)
Applications Software to cater for just about any pipetting task
Accepts any rack or container (provided that it holds containers securely and reproducibly)
Automatically reads both sample and target barcodes for totally secure processing
Comprehensive interfacing options for both import and export of sample associated data
Comprehensive recording of processing information
Robust and reliable technology used throughout

The Beeline ZX range of automated liquid handlers has been developed to incorporate the latest developments in robotics and software technologies to maximise reliability and performance. The Beeline ZX range accepts a number of options making it suitable for clinical, industrial and pharmaceutical procedures. The Deck can be populated with a variety of racks and accessories depending on the requirements of the specific application being automated. Essentially, the Deck is "open" and will accommodate just about any item that can be fitted within the confines of its working envelope.
ZX Basic Configuration Options

The Beeline ZX range includes models with different deck sizes, the Beeline 200 ZX and the Beeline 300 ZX and Beeline 500 ZX. Other sizes are available for customised systems. Other than the physical deck capacity, each instrument offers the same range of accessories and options.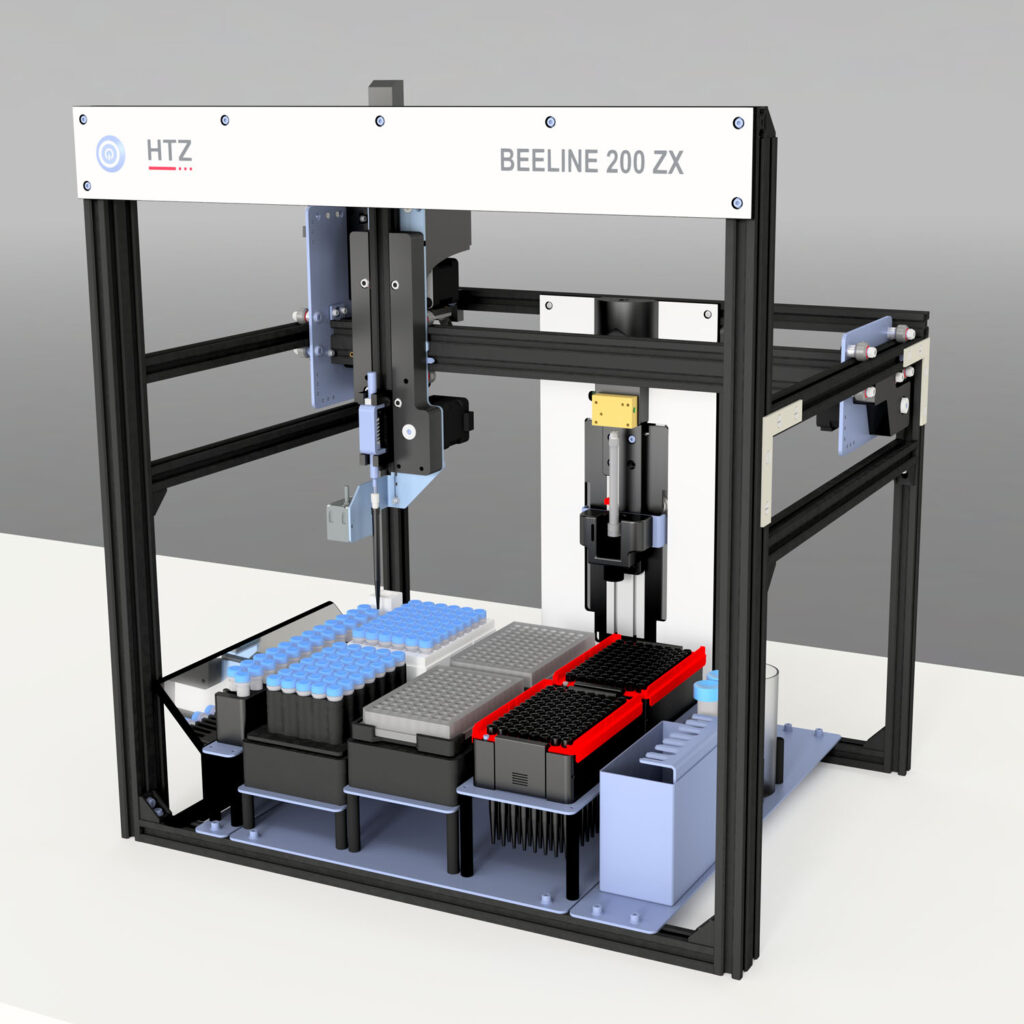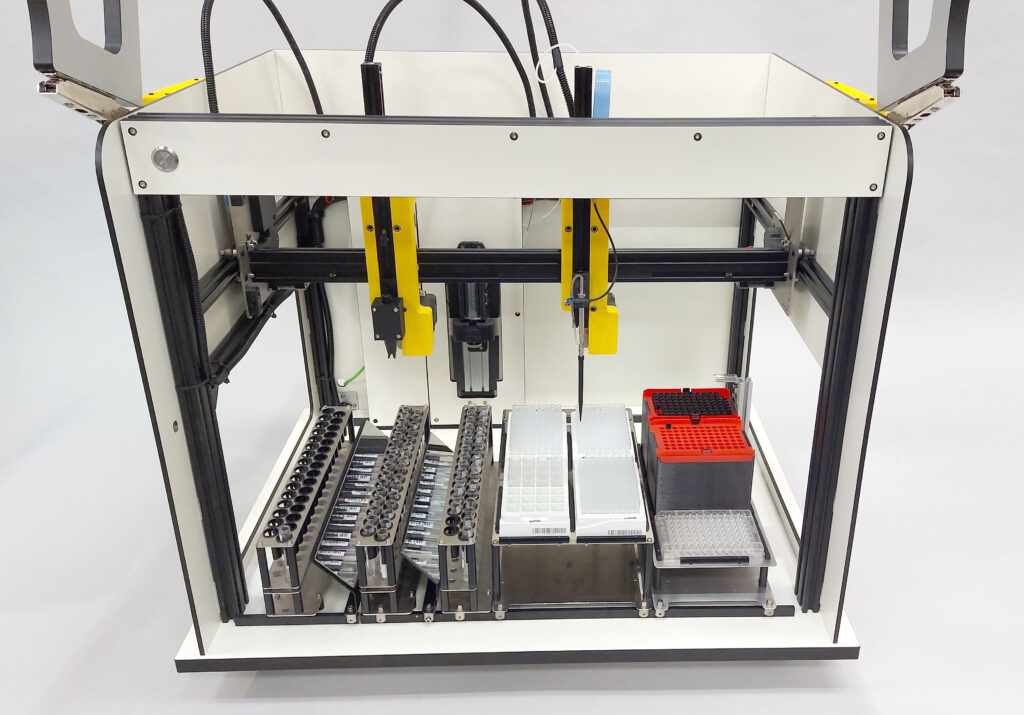 Other Beeline sx features include:


Fully customisable and readily optimised for each application
1 Probe or 2 Probe configuration options
Capacitive, pressure or conductive liquid level detection
High-resolution, high-speed syringe drives
Fixed Needle Probes (e.g. fluid filled) or Disposable Tip (air displacement)
Variety of Applications Software to cater for just about any pipetting task
BEELINE ZX – Configuration Choices
When it comes to choosing an automated liquid handling system, the starting point it is always important to consider all aspects of the pipetting task that you want to perform. Significant considerations which will affect your choice of automation include the following:


Processing throughput required e.g. number of samples per hour
Are there kinetic considerations? e.g. does a critical reaction start as soon as the sample has been dispensed?
What is the maximum batch size to be processed at one time?
Is sample barcode reading a requirement?
Is target barcode reading a requirement? e.g. are the target microplates, microscope slides, tubes barcoded?
What is the sensitivity of the test and the importance of preventing sample carryover?
Are the requirements for automation likely to increase significantly in the near future?
Does everything fit on the Deck ? (Samples, Plates, Tips, Incubators etc)
What is your budget for both instrument purchase and running costs?
All of the above questions should be considered carefully along with many more. Please Contact us or your local HTZ distributor to discuss your requirements in detail and we can advise you which model best suits your workflow.


Model
Single Probe Work Area (mm)
Instrument External Dimensions (mm) Width x Depth x Height
Excluding cover
ZX Standard Deck Size Options
Beeline 200 ZX
370 x 236
550x 480 x 580
Beeline 300 ZX
505 x 338
740 x 700 x 800
Beeline 500 ZX
875 x 338
1110 x 700 x 800
Note that heights may vary depending on which options are selected. For detailed specifications please refer to corresponding brochures related to specific applications.