SELECTA 500 SX
Cherry picking, tube filling, weighing and labelling robot
The Selecta sx Sample Management Workstation is a robotic cherry picking system with integrated weighing, decapping, liquid handling and tube labelling options. Especially suited to any precision liquid handling tasks that require automated application of tube specific labels together with data from the integrated 4-figure balance.


Introduction
Selecta 500 sx is the next generation of cherry picking robot from HTZ designed for applications requiring selective processing of tubes and vials. Building on the capabilities of our previous models the Selecta 500 sx now offers faster processing, larger deck size and a tube labelling option.

Typical Applications
Typical processing tasks performed by the Selecta 500 sample management workstation includes:
Cherry picking
Tube Identification
Uncapping/Recapping
Pipetting including filling, sample transfer, diutions etc.
Tube weighing/verification
Tube labelling
Reformatting
SELECTA 500 SX Modules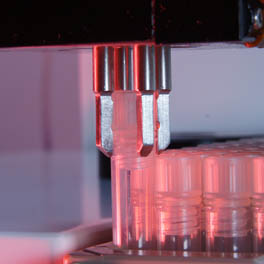 Gripper Module
In the context of this instrument Cherry Picking refers to the selective processing of individual tubes or their contents. It is commonly "driven" by data files imported from an external database. The task may simply be to physically move individual tubes from one rack to another e.g. rearraying or it may be combined with other processes such as uncapping, identity confirmation, weighing, pipetting, labelling to perform a more complex process.


In the Selecta 500 sx tube cherry picking is performed by a robotic gripper designed to accommodate a wide range of tube and vial sizes. The gripper is able to pick up and transfer the tube to other processing modules or simply transfer the tube into another rack. The tube gripper incorporates the ability to monitor the successful processing of the tubes and caters for most failure modes resulting in reliable and secure processing of all of your tubes.


As well as being able to pick and place tubes the Selecta 500 sx tube grabber has the ability to rotate tubes through 360 degrees. This enables the instrument to apply "wrap-around" tube labels for improved security.


The Tube Gripper accommodates tubes with a minimum diameter of 9mm and a maximum diameter of 14mm. Gripping force is monitored throughout any tube manipulations for increased security of operation. This also provides the ability to detect and confirm the presence or absence of tubes throughout any processing operation. The range of tubes that can be accommodated include* those from Abgene, Brooks (FluidX) , Matrix and Nunc.
A variety of cryovials can also be processed.


Barcode Reader Modules
Most commonly unique tube identification is via 2D barcode code on the bottom of the tube. Tubes are removed from a rack and placed in the 2D scanning module. Once the tube identity is determined or verified , the tube may undergo further processing. Tubes labeeled with 1 D (linear barcodes) may also be identified.


Decapping Module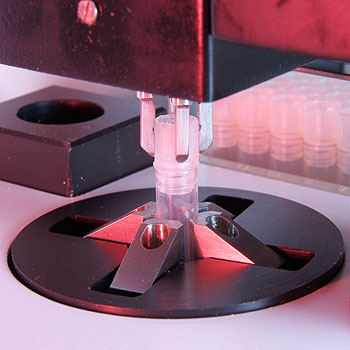 The Decapping Module accommodates a wide range of tube sizes. Caps are removed and replaced individually thereby reducing the possibility of cross contamination between tubes particularly important in processing nucleic acid tests with large amplification steps.


High-Precision Syringe Drive
Selecta 500 sx may be fitted with one or two high-precision syringe drives. These may be used for any precision liquid pipetting tasks from simple filling to complex pipetting sequences. Fluid filled pipetting needles or disposable tips may be used.


Weigh Station Module
Based on a Sartorius 4-figure balance the Weigh Station module now incorporates an automaed draft shield to improve reproducibility and speed of measurement. Tubes are most commonly weighed to determine tare weight, confirm weight of liquid pipetted or to determine the weight of the liquid remaining in the tube after aspiration.
Tube Labelling Module
An extremely robust and flexible tube labelling option may be supplied with the Selecta 500 sx. Tubes, vials and bottles may be presented by the robotic gripper and label applied. The format, size of label and type of label material can be specified including labels that tolerate -80 degrees centigrade
The data printed on the label can include barcode and other sample specific information together with gravimetric data when combined with the Weigh Station option.


Z Drives
The Selecta 500 sx has up to 2 independent Zdrives. Each can accommodate a pipetting needle connected to a high-resolution syringe drive.


A Typical Process
One example application suitable for automation by the Selecta 500 sx is where plain glass vials need to be filled with an accurate volume of liquid and where the weight of the liquid needs to be incorporated into the label that is applied. This includes the following main steps:
1. An empty vial is selected by the robotic gripper from a rack located on the deck
2. The vial is moved onto the Weigh Station Module and a tare weight is obtained and recorded
3. A specific volume of liquid is dispensed into the vial. This pipetting task may be a simple reagent fill from a liquid reservoir. Alternatively, it may involve the transfer of liquid from more complex liquid handling preparation procedure
4. The vial is then re-weighed and the weight and or volume of liquid in the tube is calculated
5. The vial is then presented to the Tube Labelling Module where a label is applied to the vial. The label can include any data related to that individual vial including the weight of the liquid just dispensed
6. The vial is then returned to its original rack – or placed in a separate receiving rack


New Features
The Selecta Sample Management Workstation, now incorporating updated electronics and a rotating tube gripper, provides a number of new capabilities over previous models:


Larger Deck
360° Rotating Tube Gripper
Faster processing
Twin Z, Twin Pump configuration
Weigh Station with Automated Draft Shield
Tube Labelling module
Accessories
Tubes may be presented in a variety of different rack types but typically they are in 96 position SBS format blocks. Custom racks are avalable for high-density loading of vials. Racks suitable for direct transfer to freeze driers also available.
Identification of tube codes, either 2D or linear barcode, is achieved by means of the integral camera, 2D scanner or laser barcode reader.


Software
Selecta 500 sx is controlled by our advanced robotic instrument control suite giving the user the ability to readily configure the instrument for a number of different tasks, deck layouts and tube types. The software provides a graphical display of the instrument during processing so that progress can be readily monitored.


Capacity
The deck can be configured to accommodate up to 15 SBS format racks plus reagent racks in addition to the Weigh Station and 2D barcode reader.


Probe Wash Station
When transfering liquiids the pipetting needle is washed in between samples in a Probe Wash station that washes both the inside and the outside surfaces of the probe needle.