HTZ's design team specialise in automated liquid handling instruments and have a proven OEM track record
HTZ – Your Automated Liquid Handling Partner
HTZ is an OEM automation designer operating in the Clinical, Industrial and Pharma markets. We supply automated solutions for a wide range of laboratories through our global distributor network and OEM partners. Futhermore, we have a wide range of technologies and modules available which can be used to speed the development of new products, or enhance existing ones. Many of these have been already been proven by being used in our own products, usually for extended periods.

A collaboration with HTZ gives you the advantage of working with both an experienced team and with a company whose quality and project management skills have evolved over 35 years to deliver product that fully meets and usually exceeds customer specifications and requirements.
Our Expertise
All our instruments are designed and assembled in-house which requires us to maintain expertise in all of the following areas:
Electronics engineering
Production engineering
Applications development
Contract manufacturing
Project management
Quality management ISO 9001 : 2015
Regulatory affairs

Incidentally, we offer careers opportunities in all of the above areas, from time to time, so if anyone reading this is looking to enter the world of robotics and scientific instrumentation then click here for the latest jobs at HTZ.
Specialist skills in OEM Automation Design
The resources and skills required for your project will, of course, depend on where it is in the development cycle. Whether still just an idea or already at the advanced prototype stage , we have capabilities to help you bring it to market.

HTZ primarily specialises in designing and manufacturing products for automated liquid handling. This has given us the expertise to tackle projects from customised stand-alone diluters through to fully automated clinical analysers. Our experience in developing environmental instruments and our involvement in the development of thermal cyclers and DNA sensor based detection systems means we also have specialist expertise in thermal control, lasers and optics.


Mechanical engineering
Our designers employ the best CAD software tools available for the development of outline and detailed design proposals. 3D models help the detailed technical discussions that are needed as part of any successful OEM project. Furthermore, our in-house manufacturing facility and network of local specialist suppliers gives us the flexibility to manufacture prototypes and test concepts on an extremely rapid timescale.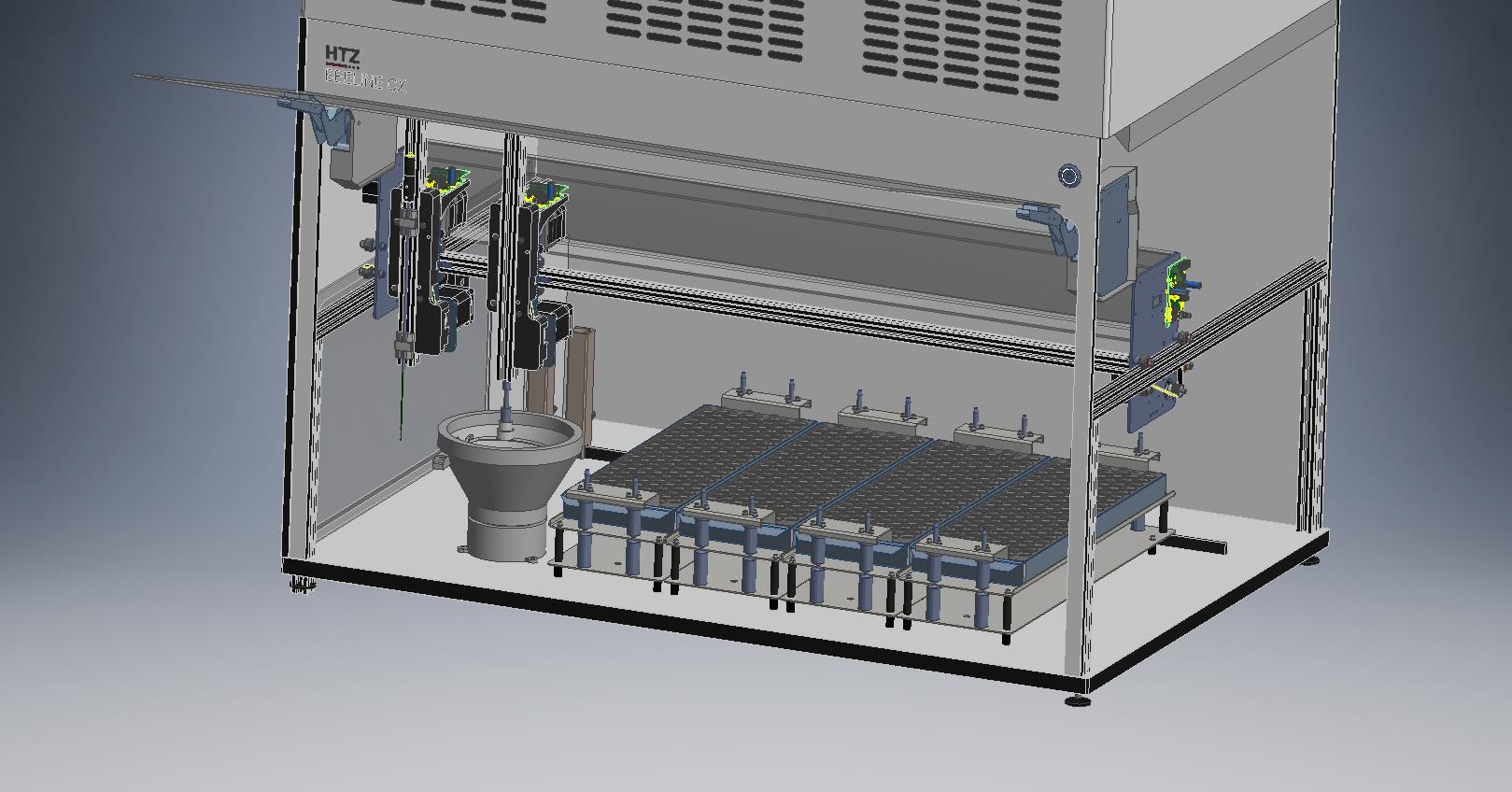 Electronics
Our expertise here reflects our extensive experience in robotics and automation including:


Stepper motor control – XYZ robotic drives
Temperature control – Thermal cyclers, incubators
Optics -lasers, fluorimeters, photometric systems, image analysis


Software engineering
New instrument systems require software development at a number of different "levels". A comprehensive understanding of software architecture, and of the different languages employed, is required to maximise software development efficiency and reliability. This applies particularly where integration into other software systems is required.


HTZ's wide ranging experience in software development and our comprehensive library of core software technologies translates itself into a rapid development from concept to completed product. Some of the current tools employed include:


Low level – C, C++, VB6, VB.NET
Script – Perl, Java
Applications – VISPROG (In-house robotics control language)
User Interface – VB, VB.NET

The HTZ Design Process
The starting point for any project is usually a User Requirement Specification (URS). Of course you know what you need but we use our wealth of experience to ask all of the right questions and what if's. For complex and novel systems a feasibility study is also required. If you have a project in mind and would like to know more about what is involved in bringing your product to market then contact us here at HTZ.