Cost-effective automated liquid handling
We design automated liquid handling instruments for a wide range of budgets and applications

Manufacturer of Automated Liquid Handling Instruments
HTZ is a highly experienced manufacturer of automated liquid handling instruments. We operate in a number of market sectors and sell through our network of distributors and OEM partners.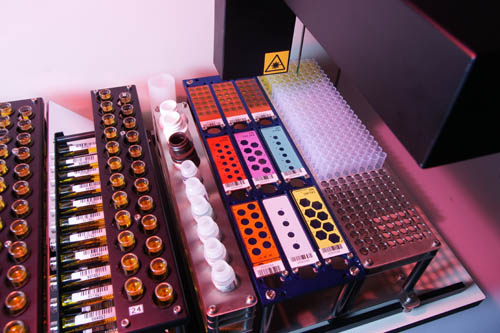 We produce a range of unique automated liquid handling instruments used in a number of different hospital and industrial laboratories. These include labs in the following areas:
And these labs perform a wide range of applications. From simple filling and pipetting tasks through to those requiring complex sample preparation and data manipulation.

We also manufacture a range of instruments designed for automating specific analytical techniques. These include IFA, blood grouping, plasma pooling, immunoassay and trace metal analysis. These systems are often adapted to use reagents from any supplier. And, although appplication specific, they can usually be modified to perform tasks not considered when originally specified.
We produce a range of "XYZ" based robotic modules which can be integrated into other systems and sold on an OEM basis. We also offer a contract design and manufacturing service.

Extensive experience in the design of Liquid Handling Automation
Our key skills include mechanical, electronic and software engineering as well as cell biology, biochemistry and clinical laboratory sciences. In partnership with our distributors, we develop a variety of instruments to provide our customers with automation that is both reliable and cost-effective. Although an SME, our expertise in delivering creative and reliable solutions for automated liquid handling is second to none.


Consultative Approach
All too often, automated pipetting systems sold into labs provide unnecessary levels of complexity for the tasks that are actually performed routinely. It is all too easy for laboratories to specify and purchase automation with a view to having a "just in case" capability that in reality does not get used as it does not represent the core requirement of the laboratory. The end result is an expensive initial purchase and also significantly higher on-going service and maintenance costs as these are usually based on a percentage of the capital cost.
At HTZ we encourage all our customers to be realistic about what they are likely to actually need and are able to implement. We don't sell machines with expensive accessories unless they're really going to be used and offer value for money.

Location
Based in the UK, the the full range of products are designed, manufactured and supported from our factory just south of London. We work closely with our extensive network of key suppliers and only use the best – wherever they may be. We also sell directly into the UK so offer comprehensive service and technical support for all of our products or to anyone seeking these capabilities in the UK.

Trade Associations
We are proud members of GAMBICA, the UK Trade Association for Instrumentation, Control, Automation and Laboratory Technology which offers advice and guidance to manufacturers of similar equipment around the UK.