HTZ now supplies a range of tube and vial fillers. Although filling tubes with liquid is a relatively simple liquid handling task, there are a variety of methods and technologies available to do this so you need to choose the one that will perform the task as efficiently and precisely as possible.
Contact us to get more detailed advice.

HTZ now offers an even wider range of instruments and different pumping systems, as well as other associated technologies, and is now very well placed to provide flexible, reliable and cost-effective solutions for your laboratory.
Factors which influence the choice of pumping system or instrument to use include:


Number of different types of liquid to process within a fill batch
Is total sterility a requirement ?
Volume range to be dispensed?
Type of tube – e.g. open tube, vial or sealed blood collection tube?
Accuracy and reproducibility requirement
Availability of sterilising facilities on site
Liquid Delivery Options
In order to address some of the different requirements that filling tasks require, HTZ offers a number of different probe and pumping technologies including:
Disposable Tip – good for batches with lots of different liquids
Precision syringe drive and fixed needle probes – good for the best possible accuracy and precision
Peristaltic pumps – Good for sterile applications, wide volume range and high filling speed
Disposable syringe and valve – good for sterile applications, zero cross-contamination, accuracy and precision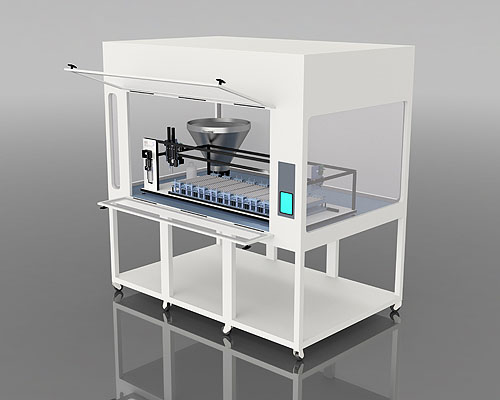 SYRIFLEX 500
Based on the new ZX workstation, the SYRIFLEX incorporates a liquid dispensing system based around a disposable syringe and valve making it ideal for sterile applications or wherever zero cross contamination of liquids needs to be guaranteed.
Syriflex can be readily installed in a Class II Microbiolgical Safety Cabinet (MSC) making it suitable for dispensing hazardous biological materials. Furthermore, the MX platform caters for multiple dispense heads and can also be used with robotic grippers for pick and place tasks – such as cap insertion.
PERIFLEX 500 sx
The Periflex 500 sx is an automated filling station based on the robust Beeline sx range of robotic sample processors. At the heart of this system is a high-resolution peristaltic pump drive delivering precisely metered quantities of liquid into any tube or vessel that fits on the instrument deck.

Pipetting layouts can be readily created to cope with any array of racks or tubes. The Periflex 500 sx and has a capacity for several hundred tubes.