DUET
Duet is a highly sensitive blood grouping reader for the interpretation of tests performed in either microplates or gel cards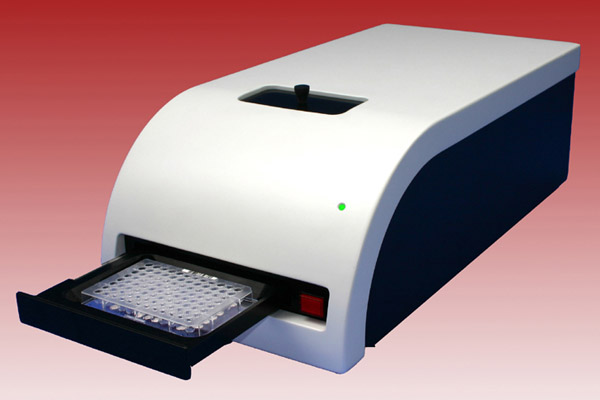 DUET READER
Suitable for ABO/Rh grouping, antibody screening etc


Reads all varieties of gel type cards and microplates
Fully programmable, high-resolution image analysis
Detects and interprets "weak" positives reliably
Batch mode option for maximum throughput
Automatic bar-code reading of microplate and gel card barcodes
Reads wide range of Gel Cards
DUET is an image analysis reader dedicated to reading a wide range of blood grouping and other haemagglutination assays based on gel and other similar card technologies. The reader incorporates a card holder optimised for the specific gel card but this can be readily changed to cater for different card types. Standard 96 well microplates can also be read


Advanced Image and Data Analysis
DUET incorporates the latest image analysis technology to provide high-resolution images for the greatest sensitivity in the interpretation of all agglutination based reactions. Advanced, programmable data analysis software is used to enhance the sensitivity further allowing parameters to be optimised for the specific requirements of a particular test.


Wide range of Applications
DUET is suitable for the following tests:
ABO/Rh
Phenotyping
Antibody screening
Cross matching
Sickle cell
Reagent Flexibility
DUET gives you the flexibility to choose the reagent supplier to suit your particular needs. It is designed to read all of the card technologies on the market and currently has adaptors available for those from BioRad (Diamed), Ortho and Sanquin.


Secure Operation
The DUET reader designed to work either in stand-alone mode or integrated with a sample processor such as the QASAR 300 SX or QASAR 500. Whichever mode is used, automatic identification of gel cards is achieved using the high-resolution camera. Results data is then be automatically linked to the sample identifiers and can then be exported to the laboratory computer system.


Powerful Data Manipulation
Aurora software (from Biomedical Data Solutions) provides almost unlimited flexibility for viewing and reporting of results. Reports can be custom designed to your own specification. Aurora also enhances security of operation by comprehensive password protection at all levels to reduce the risk of unauthorised access. A complete audit trail of user operations can be used to aid retrospective fault finding.